Alexander McQueen: a celebration of his most iconic runway shows
by Katy Cogan
● His work was inspired by his own genealogy, baring much of himself to the audience
● McQueen pushed boundaries and used shock tactics, touching upon controversial subjects
● His ability to present his designs using theatre and innovation gripped audiences with their conceptual genius
With February 2023 having marked the thirteen-year anniversary of his death, this post pays homage to his most iconic runway shows throughout his extraordinary career.
McQueen's genealogy in his work
Throughout almost all of McQueen's work, there are cues taken from his own ancestry, adding a personal touch.
Examples include using his family's Tartan in his 1995 'Highland Rape' or hosting his 1996 'Dante' at a church in Spitalfields, a notable feature as his mother's side descended from the Spitalfields Hugenots.
This was prominent from the offset. In 1992 McQueen graduated from Central Saint Martins; his collection 'Jack the Ripper Stalks his Victims' was shown at the end-of-year show. The auto-biographical relation here was that his relative owned an inn that housed a Jack the Ripper victim. McQueen also set his hair into the clothing label – a reference to the Victorian era, when prostitutes would sell their hair.
Pushing boundaries 
McQueen's designs and runways for his own brand, and also Givenchy (1996-2001), were divisive.
In 'Highland Rape', lace clothing was violently torn apart and slashed, expressing how Scotland was savaged by war. McQueen was exhausted by designers idealising Scotland, explaining how the show "was a shout against English designers doing flamboyant Scottish clothes".
Many critics felt the show romanticised the rape of women, but McQueen argued, "people thought this was about women being raped – yet Highland Rape was about England's rape of Scotland."
This controversy continued. Whether it be the use of animal skins in his 1997 'It's a jungle out there', the name of his 1998 show 'Golden Shower', or staging 'VOSS' in what appeared to be a psychiatric ward… McQueen followed his own rules and didn't shy away from controversy.
Always keeping the audience on their toes, 'Golden Shower' (later renamed 'untitled' following major pushback from sponsors), started off relatively calm. Models started the show by wearing white gowns and glittered corsets, only for them to be destroyed by a yellow rainstorm. The show ended as a parade of nudity, as their clothes became completely see-through under bright yellow downpour. The result was thrilling and beautiful, all while possessing clear kink undertones.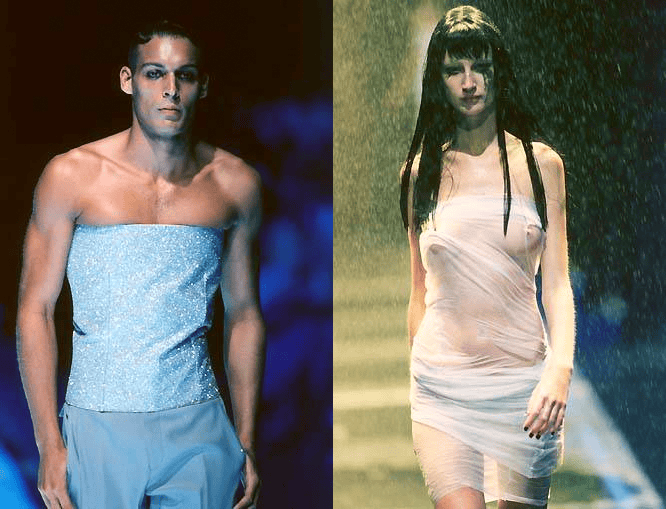 Theatre 
The show that arguably cemented McQueen's reputation as the ultimate showman was his No.13 in 1999. It closed with two robots spray-painting a dress and has been a major muse for many runway shows since. Most recently, the 2022 Coperni spray dress, worn by Bella Hadid, paid homage to this.
Going back to 1996's 'Dante', the show opened with organ music which was struck down by the sound of gunfire. The audience sat in pews with skeletons amongst them for a chilling display of beauty and blasphemy.
'It's a jungle out there' saw models wearing animal horns and harsh eyeliner; it was set against walls of iron, covered in bullet holes, featuring ruined cars, dry-ice and red ominous lighting. The outcome was tough and bold, yet sexy and highly tailored.
The show drew on darker motifs, McQueen explained, "it was about the Thompson's gazelle… as soon as it's born it's dead… I see human life in the same way… we can all be discarded easily".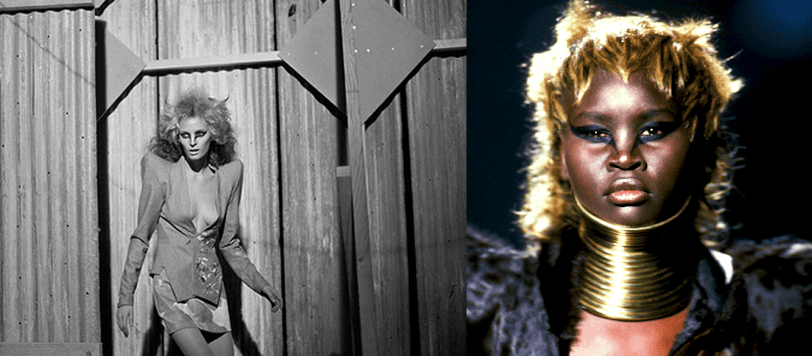 The 1998 theatrical masterpiece, 'Joan', ended with a model, wearing a beaded red dress that covered her face, circled by a ring of fire – a direct reference to Joan of Arc, who was burned at the stake.
Innovation
The early 2000s saw McQueen experiment with digital innovation, most famously the hologram of his close friend and muse, Kate Moss, in the 2006 show, 'Widows of Culledon'.
To McQueen, beauty was organic yet uncomfortable and transgressive; his 2000 show 'VOSS' embodied this. Whilst waiting for the show to start the audience listened to a heartbeat and sat around a mirrored cube; all they could see was their own reflection. The show was full of twists: not only did the set resemble a psychiatric ward, but also the models could not see the audience – creating a fictional space isolated from reality. The finale saw the box shatter to reveal Michelle Olley naked on a chaise longue, wearing a mask attached to a breathing tube… all in one show.
To close, it would feel wrong not to mention, arguably, his most innovative show: Plato's Atlantis. In McQueen's own words this "predicted a future in which the ice cap would melt…and life on earth would have to evolve to live beneath the sea once more or perish".
In dark light, the audience watched as snakes crept over the projected figure of model Raquel Zimmermann, then two imposing robot-esque cameras sprung to life, sweeping the crowd. As he did with 'VOSS', McQueen switched the focus on his audience.
Models resembled predator-like creatures, they were dressed in the now iconic claw-like armadillo shoes and digital print dresses that crossed between animal and alien.
McQueen collaborated with Dazed' SHOWstudio to broadcast the performance – marking one of the first occasions of high-fashion meeting the digital masses.
To finish 
Alexander McQueen was an icon of his time and his legacy lives on today. His shows will forever remain prestigious, and his designs will continue to influence fashion and culture. This is not just on designers, but musicians, artists, personalities and even influencers.
Mcqueen created art, and it has lived on in many different variations – some shallow, and some high concept. Mcqueen will always be relevant regardless of whether the audience knows it or not.