How is film photography influencing the digital world
by Pauline Lacroix
● Film photography is back! Its purpose? To slow the pace of our digital world. 
● We have become numb with convenience and spoilt for machined-perfection. 
● The unique imperfection and inconvenience of film is the antidote to the norm for modern brands
 
1. Film photography is slowing down the pace (in a good way)
Digital photography is fast-paced, precise and reliable. It's come so far that we almost take it for granted in the creative world, and as a photographer, the pressure is on to create perfect content as quickly and consistently as possible. It's expected, maybe more than admired.
Analog photography is a lot of things, too. Fiddly, sometimes disappointing… but it's also refreshing and full of happy surprises. It's a way to slow our lives down a bit. It encourages us to take the time to appreciate capturing the moment: the light, the shadows and everything they frame. Knowing the shutter button won't allow itself to be mashed like the touch screen of a smartphone, we accept that the outcome is unpredictable. Which could be stressful or exciting, depending on how you wanna look at it.
We're now living in a post-pandemic world, where the pace of life has sped up to how it was before. But in lockdown, we were forced to slow down and find new ways of staying creative. Addison Stidham (@warmjulysun_polaroidaday) began taking a polaroid a day, experimenting with different techniques that produced unexpecting results. So, why are we so quick to return to the "everything now" mentality, now that we aren't trapped inside?
2. Obsession with nostalgia
We're forever stuck in the cycle of trends coming, going, then coming back again. The 90s and 00s are back in fashion in every way, including technique and production. Take polaroids, for example. We used to take polaroids that would end up glued in sticker-covered photo albums, and now we share our polaroids via social media. Intangible, yes, but it perfectly bridges the gap between digital and film photography. Polaroids create images instantly like digital cameras but provide the physical element that we all lack with social first content. As with film, polaroids are unique and they can't instantly be edited. And in a world obsessed with editing out imperfections, this little bit of truth holds more significance than we might think.
One thing we know for sure is that Gen Z loves a bit of nostalgia (even though it's for something they never actually experienced). Disposable cameras are back – even iPods have seen a small resurgence. Their iPhone 14 Max Pro will undoubtedly produce better quality images than disposables, but with less appeal than sharing film photo dumps to IG. Many artists and even some brands are now giving their own take on this nostalgic trend, working with film to express their image in as raw a display as possible. Axle Jozeph's campaign for Nike x About You, is highly reminiscent of 90s teen magazines, using collages and film photography to picture this nostalgic vibe.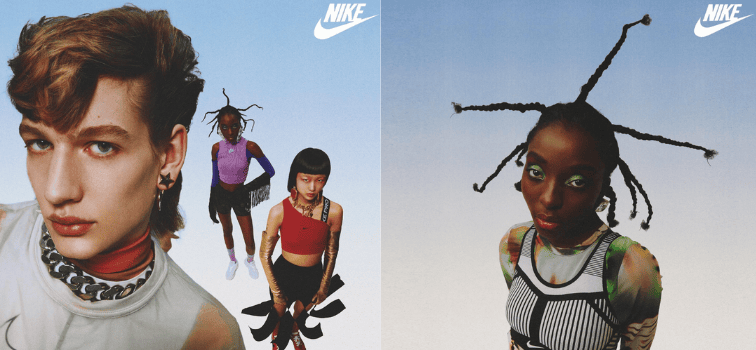 3. Imperfection is on trend
We've become numb to the sight of digitally achieved perfection. The allure now lies in seeing the reality behind the facade. Brands have started to publish more imperfectly perfect BTS, showing the reality of chaotic shoots and always through film for added "realness".
Take Casablanca Paris. They're either working really hard to show off their backstage vibe, or making absolutely no effort to cover it up. Either way, the pictures look natural and far from perfect. Some are left blurry, others are even burnt, all adding to the impact. The ambiance and personality are rough and ready, for our viewing pleasure.
Film also feels more personal compared to digital, intimate. It's a great way for brands to feel more human.
Brands like Airbnb are steering in a new, social direction. They've begun using film photography to share more 'normal' and spontaneous moments, giving a realness and relatability to their homes, instead of the expected, polished images we all know need to be taken with a pinch of salt. Their summer campaign is like a photo album, pulling on the heart strings of the audience with these intimate moments, with the goal of feeling more human.
5. The natural effects of film
The phrase 'film effect' has made its way into our vocabulary as popular apps have made it possible to achieve it so easily. We're all guilty of playing with the film filters that make our pics appear analog, or the Super8 camera filters on short videos and friends' stories. Even for brands, it's become common to ask for more grain or an analog feel. Contrast and sharpness are our new best friends. The authenticity of film photography can't be perfectly faked – there are too many natural elements at play.
The Instagram page @firstoftheroll shares the first picture of each roll once developed. Unsurprisingly, the first picture is often burnt or blank. Sometimes the burn is only partial, this is when the results become more magical than the intended shot was ever imagined. By publishing these challenging first shots, they're portraying them as an asset, rather than a failure, and it's what makes these pictures beautiful and unique.

6. You can create new with old
The original is often the best and we tend to revert back to the old ways, so I believe film will continue to hold a prominent place in a digital world. The hashtag #filmphotography on TikTok has 632.6 million views, which pretty much speaks for itself.
So, if you're not using film, what element of it do you think could work for you or your brand?